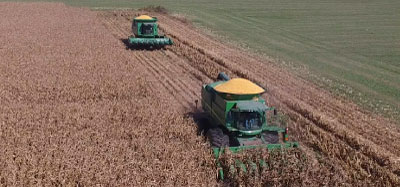 Farming Michigan for over 20 years.
Starting off on his own with only a couple hundred acres in Isabella County owner, Mike Klumpp, has grown his farming operation over the last 20 years to span several counties. Currently farming in Isabella, Gratiot, Mecosta, Montcalm, Midland and Clare counties.
About 5 years ago, after seeing the decline in the conventional crop market and the demand for organic products we began researching changes we would need to make to transition to organic farming. Now we will have over 2000 acres of certified organic farm ground with several other acres making the transition over the next couple of years. Our subsidiary Mike Klumpp Farms also farms thousands of acres conventionally.
With markets always changing in the world of agriculture we are always looking for ways to expand or flex our operation to fit the needs of the market.

Crops we grow
Yellow Corn (organic & conventional)
Soybeans (organic & conventional)
Black Beans (organic & conventional)
Wheat (organic & conventional)
Oats
Hay
Organic Blue Corn
Organic White Kidney Beans